About Us
A professional company of pipe nipples
Welcome to NIPPLEX. We are a global company of pipe nipples based around the world. We provide high-quality nipples using NC lathes with "accurate" and "clean" threads that are faithful to JIS standards. In addition, we promise to respond to customer requests thoroughly. Thoroughly respond to and improve defective products such as piles, ridges, poor fitting, chamfering defects, burrs, rust, peeling of plating, and defective dimensions.
Products
High end and high quality
Suitable for machine equipment piping
White standard nipple
Three special features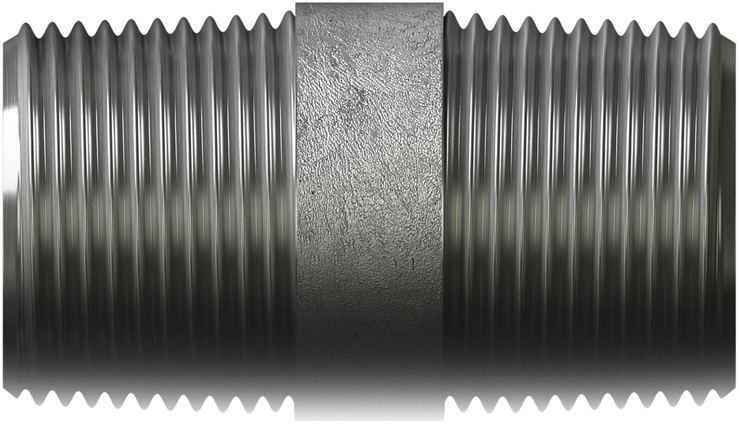 With conventional products, it may be difficult to fit the joint due to twisting or turning of the thread at the groove. This product has been reviewed and added one more process after the cutting process, and a large 45 degree groove processing is applied. This enables "smooth screwing".

Conventional cutting methods using rotary cutters produce sharp internal burrs. It must also be scraped off with a reamer to remove the burrs, which can result in "deep rough" scratches on the inner surface. In order to solve this problem, this product simply cuts with a metal saw to minimize the occurrence of internal burrs, and then chamfers the lathe and keeps it to `` slight thread chamfering '' to create a `` beautiful inner Chamfering "has been realized.

In this product, we focused on the pretreatment before cutting the screw. Until now, long plated pipes were cut into nipples. Naturally, in this manufacturing method, the cut end face and the inner chamfered part that scraped off the internal burrs were in a "no plating" state, creating rust. For this product, we decided to finish the inner and outer chamfers after cutting, and then individually plate each one. This pretreatment before cutting the screw is the biggest feature of the special white standard nipple, except for the threaded part.

the difference

Difference between the conventional product and this product

Other product

Our product

Since conventional products are nipples that give top priority to cost performance for housing equipment piping, mass production type processing methods must be selected. For this reason, quality such as "rough chamfering", "screw thread twist" and "plating peeling" are commonplace. Although this product can be used for housing equipment piping, it has been finished as a "nipple ideal for machinery equipment piping". What is required of nipples that will be part of machinery and equipment piping? It is not just that piping can be made, and as long as the nipple itself becomes part of equipment, it is not ashamed to touch the eyes of the end user. It must be beauty. For this reason, this product is particular about "outer surface, inner surface, and end surface".
Suitable for machine equipment piping
Stainless steel standard nipple
Three special features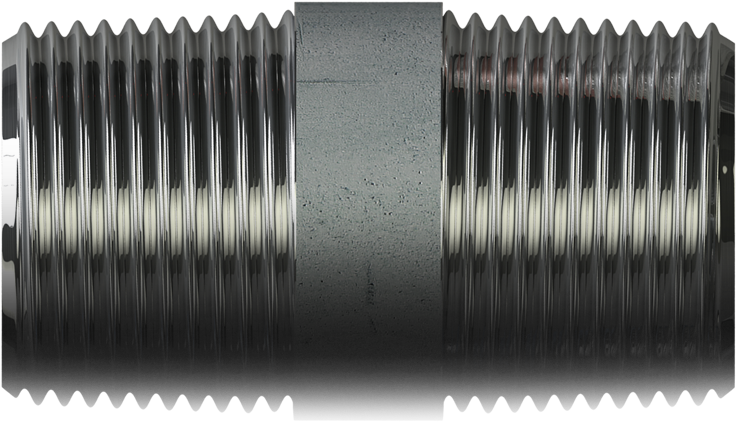 Special of 1

Thickness is over SGP

Specification changed to Sch40 equivalent (8A / 10A / 25A / 32A / 40A)
Specification changed to SGP equivalent (50A / 65A / 80A / 100A)

mm
size
thickness
increase
normal
reference
SGP
Sch40
6A
2
2
2
1.7
8A
2.3
+0.3

UP!

2
2.3
2.2
10A
2.3
+0.3

UP!

2
2.3
2.3
15A
3
3
2.8
2.8
20A
3
3
2.8
2.9
25A
3.5
+0.5

UP!

3
3.2
3.4
32A
3.8
+0.3

UP!

3.5
3.5
3.6
40A
3.8
+0.3

UP!

3.5
3.5
3.7
50A
3.8
+0.3

UP!

3.5
3.8
3.9
65A
4.2
+0.2

UP!

4
4.2
5.2
80A
4.2
+0.2

UP!

4
4.2
5.5
100A
4.5
+0.5

UP!

4
4.5
6.0

The specification was changed to the wall thickness of all sizes SGP or more (equivalent to schedule 40). In the conventional product, there were 7 sizes out of 12 sizes that were less than SGP. Since sufficient wall thickness was not secured, the thread valley was extremely thin (backed streak with streaks on the inner surface of the pipe) and low strength. With this specification change, it has become resistant to deformation and cracking of the pipe when screwed.

Special of 2

Abundant standard dimensions

Previously 7 types (length 50mm to 200mm)
18 types after the revision (length 50mm to 300mm)

Previously, only 7 types of length settings were revised to 18 types.
This is an increase of about 2.5 times.

Conventional
After revision
50

mm

50

mm

65

mm

65

mm

75

mm

75

mm

-
85

mm

add!

-
90

mm

add!

100

mm

100

mm

-
110

mm

add!

-
115

mm

add!

125

mm

125

mm

-
135

mm

add!

-
140

mm

add!

150

mm

150

mm

-
175

mm

add!

200

mm

200

mm

-
225

mm

add!

-
250

mm

add!

-
275

mm

add!

-
300

mm

add!

Special of 3

High precision NC screw

No
wrinkles
No
burr
No
roughness

This product is made with high precision machining by NC lathe, and the screw accuracy is made uniform, and the screw shape is faithful to the standard in any of the screw pitch, angle, angle, taper angle.

Because of the lathe finish, there is no twist at the tip of the screw, and all areas where burrs are a concern are chamfered. Screw processing is performed by high-speed rotation, and the surface roughness of the thread surface is smooth, so there is no catching during piping.
Recruit
Want to be the best in the world?
Aiming to be the world's best pipe nipple brand. We are a company of pipe nipples with such a vision. Do you not hit your passion to the world? Piping materials such as pipe nipples are indispensable for people's lives all over the world. Our goal in the world is to deliver smiles to 7 billion people worldwide.
News
Get the latest information here
Access/Contact
Our location and contact information
Main office:

NIPPLEX VIETNAM CO.,LTD.

No3,Street 6A,VSIP,TinhPhong Commune Son Tinh Distric,

Quang Ngai Province

Other office:

NIPPLEX SHAOXING CHINA

NIPPLEX YANTAI CHINA
Contact